Tuesday, January 1st, 2013
---
11:49 pm
- Happy New Year!
I think it's hysterical that LJ is having issues, since I'm sure everyone suddenly remembered they had a journal Jan. 1st. So far have had a weird holiday and haven't done even half of what I wanted to accomplish over the break, but then again, I'm usually too ambitions for my own good in regards to what I can do over a vacation. I do need time to actually visit with friends, play on the internet, read, etc...

Well, here's to 2013, whether or not it's a terrific or awful year, it's going to be around for the next 364 days.
Wednesday, September 14th, 2011
---
11:40 pm
- W007!
I have my computer back!

Almost 7 weeks, but it's back and seems okay (knock on wood and all that)
Thursday, March 3rd, 2011
---
10:55 pm
Happy Birthday
sweetgreens! I hope your cats decorated appropriately for ur birfday!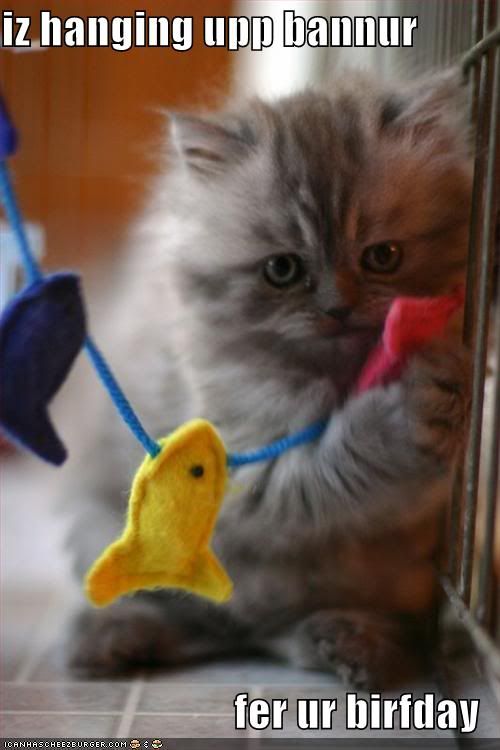 current mood:
silly
Tuesday, July 20th, 2010
---
9:32 am
- Comic Con 2010
I'm finally going to Comic Con, did anyone need me to pick you up anything? No guarantees, but I can at least try! Leaving tomorrow, so not much advanced notice, sorry!

Exclusive list Here

I want the Lego Cube Dudes (among other items) but they are going to be $75 for the box T_T Wonder how long my willpower is going to hold out? I guess it depends if I were to manage to actually get a winning ticket to buy one!
Wednesday, June 9th, 2010
---
12:35 am
- Birthday!
Friday, May 28th, 2010
---
11:23 pm
- Festive!
My sister is all graduated now, which is all sorts of exciting. The weather AMAZINGLY behaved, which was awesome, they were thinking about canceling the event late last week, which would have sucked. The speeches were super boring (interior designers of the Facebook offices. Seriously, can't make it up.) and one professor them even decided to be clever and change the words of the St. Crispin's Day speech from Henry V. Note to future speech givers, don't do it, Shakespeare did a pretty good job on the original. We went out to Vietnamese afterwards which was really good and I got to teach my sister how to use chopsticks. -.- How did she not know how? Bah. But it was fun anyway and I got to tease her, which pretty much goes without saying. Then, oh so convienient, managed to get my badge for Fanime before they closed reg and made the swap meet where I bought more manga. Bad me. As a gift for reading my rambling, here's a picture of Luna and Chibi from the Cherry Blossom festival!




The face you're making is priceless XD

current mood:
giddy
Saturday, May 22nd, 2010
---
12:33 am
- Thank you.
Sometimes, you don't realize what needs to be done. Until someone else does it and you are yelling "GENIUS!" at the monitor. "GENIUS!" I say.





current mood:
ecstatic
Monday, May 3rd, 2010
---
11:35 pm
- Creepy!
I was at the grocery store this evening when a guy with a clipboard starts following me to my car. Apparently he is some independent candidate for something or other and need signatures. I get that. YOU DO NOT FOLLOW WOMEN TO THEIR CAR IN THE PARKING LOT AT NIGHT. When I told him I would not sign he got defensive with the, "Oh, you're not registered to vote?" I told him I would not be signing because he was creepy. He then said he had to follow people because how else would he get them to sign? Oh, IDK, maybe by standing by the exit and not following people, like all the other signature people do?

I do not think he'll be winning the election. Just a hunch.

current mood:
irritated
Sunday, May 2nd, 2010
---
9:44 pm
I really want to know how I can lose the one came I care about so much on the 360? I mean, seriously? My guess is I find it after I buy a replacement one. grrr... but on the other hand yay for the other 360 being set up so I can play stuff! I wish we had enough space for the Wii in the bedroom since I'm the one that is usually playing that, but I'll take what I can get!

My sister is graduating (yay!) Fanime weekend (boo!) but just steps away from the convention center (yay!) but there are two ceremonies, Friday (her department) and Saturday (the school) (boo!). I have no idea how this is going to work (!?!?) especially since Friday is buyback at work and I don't think it'll be easy to weasel out of it since we're short staffed on Fridays and it gets pretty busy the last hour or so. I'm hoping it's late enough that I can work and make it, since we have shorter hours that day and I think that's the one she actually cares about. I should probably ask her at some point soonish. XD
Saturday, April 24th, 2010
---
11:03 pm
Sunday, April 18th, 2010
---
11:03 pm
Saturday, April 17th, 2010
---
11:04 pm
Tuesday, April 13th, 2010
---
11:03 pm
Saturday, April 10th, 2010
---
11:04 pm
Wednesday, April 7th, 2010
---
11:03 pm
Tuesday, April 6th, 2010
---
11:03 pm
Monday, April 5th, 2010
---
11:03 pm
Sunday, April 4th, 2010
---
11:03 pm
Saturday, April 3rd, 2010
---
11:04 pm
Thursday, April 1st, 2010
---
11:13 pm